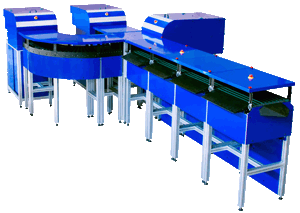 Our AMH systems will significantly improve circulation, reduce costs and minimize the need to physically handle materials. Holds can be filled in days, not weeks. Handling can be reduced to one touch from point of return to shelf. And staff time in this process can be minimized so that staff can be more available to be fully engaged in customer-focused activities that truly show the value and expertise of your team and resources.
Handling, sorting and redistributing materials should not form the core activity of staff. These transaction-based activities while in some cases, quite complex can be automated. And automated smartly so you do reduce the impacts of repetitive tasks on staff , so you do extend service hours easily and efficiently, so you can let your patrons control the return of their material when they want.
Our modular and extensible system can be designed and configured to meet the needs of all types and sizes of libraries. It is scalable from 2 to 255 different sorting output positions (into bins, smart trolleys, and/or totes).
Our full solution allows configuration flexibility with its wide variety of modules and components. The system is built from modules to meet your needs, and each module has a different function with the system. Our team in conjunction with the manufacturer's mechanical engineers and implementation consultants will help you ensure the modules fit the design to meet the exact needs of your Library.
And if those needs change and evolve our team can provide guidance on how to ensure that your system continues to meet your requirements.
More Details
Our sortation software has been in use for over a decade in libraries all over the world. The interface is intuitive and easy for both staff and patrons to use. It can work with your ILS system using SIP2. Sorting rules can either use sorting data from the library system or the information returned in SIP messages. The software can handle an unlimited amount of sorting categories and the rules can be easily adjusted by library staff.
Communication from the system to staff is done via our MessageBoard software to inform them of important situations and possible errors. This monitoring enables you to confidently leave the system unattended as it will notify staff if there is a situation requiring attention.