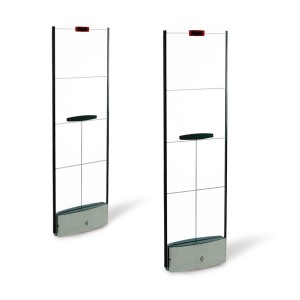 The PG45 RFID security gates are especially designed to blend into a variety of different library environments, whilst maintaining the open character of the space. Their sleek and transparent design are on many architect's wish list.
An alarm will be triggered when someone attempts to carry an article that contains anti-theft activated RFID-labels through the gates. Items that have already been checked out where the alarm has been deactivated won't cause an alarm to trigger. Because the gates look for the RFID tagged material, other types of materials that are not tagged will not cause false alarms.
staff are notified by a sound and by a red light when the alarm is triggered, which is built into each antenna. Alarm sound type and loudness are adjustable to customer wishes, for example the alarm sound is on for only a moment but the light will remain on for a longer time.
The security gate system consists of at least one entrance (two RFID- antennas, one RFID-reader). By using a multiplexer it is possible to reach even 1.30 m (PG45) or 1.60 m (PG50) wide entrance. RFID- security gate systems can have 1, 2, 3 or 4 entrances. In this way libraries can protect wide entrances as well.
It is possible to have an integrated patron counter with wireless patron statistics program in RFID gate systems. The GateController software can be connected to the RFID-gate systems. The software allows displaying information about the cause of the alarm on staff computers, such as item names. RFID gates can also be connected to video surveillance and other external systems.